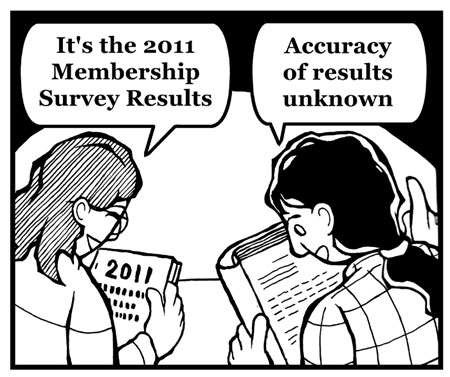 Blog
June 18, 2011
Membership survey results released
The long overdue
membership survey results
were released last Thursday. MCK issued a
press release
stating that "though a technical method of randomly selecting phone numbers by neutral parties was used, the MCK is not prepared to say how accurate the results of the survey are due to the difficulty in gathering the results and the amount of input given by those who participated."
The survey was plagued by a lack of participation in the initial paper version of the survey, which was distributed in the MCK's History of Membership sessions last September. The low participation led to the random phone survey, which according to the press release, resulted in the completion of 360 surveys.
I do wonder what happened to the paper survey that people, including myself, completed because the press release makes no mention of this data being included in the final statistics.
While MCK made efforts to seek out the community's opinions, the methods used are not capable of gauging a specified margin of error. Perhaps an outside firm, specializing in data research, should have been hired to create and conduct the survey. The overwhelming feedback from participants also skewed results and added to the delay.
Participants' additional comments are not verbatim and the full context of the conversation is unclear, since the comments are subdivided by theme in the results. The survey wasn't cut and dry and maybe that's not possible with such a complex issue. After all, this isn't a questionnaire on customer satisfaction.
One thing the survey proves is that people have something to say, whether it is about the survey questions or the membership issue itself.
Read more